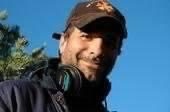 Hi, I'm Leonard Sanchez, owner of Tamalewood LLC video production services. I provide production services for film, video and audio with some of my best work being showcased on Sicario (2015), Transcendence (2014) and The Signal (2014).
You can check out more of my work on the Internet Movie Database (IMDb) http://imdb.com/name/nm2325983/ or connect with me on Instagram http://instagram.com/tamalewood/, Twitter https://twitter.com/TAMALEWOOD?s=20 and Facebook http://facebook.com/ljsanchez2
Video Production Services, #Art Department, #Sound Department (505) 920-1927
Thanks for dropping by. Please show your support of my work by checking out my Tamalewood merch.
~ Leonard
---
Pronounced Tuh-Mall-E-Wood. Just like Hollywood in L.A. and Bollywood in India. A tamale is a type of New Mexican food. A term originally coined and trademarked by Leonard Sanchez.